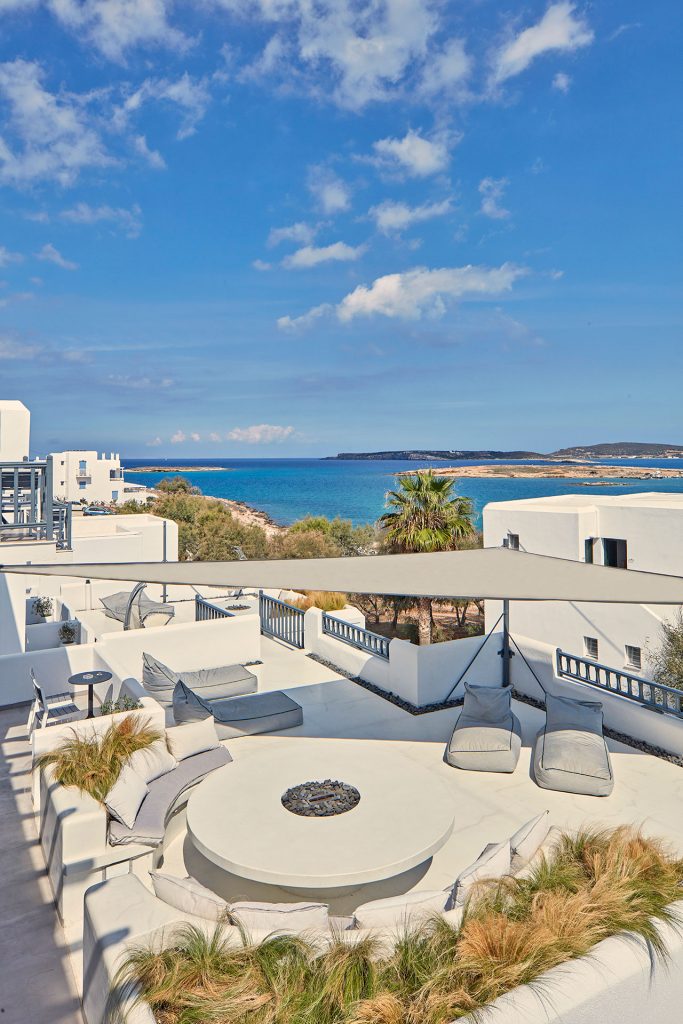 About us
Parian Boutique Hotel combines unique aesthetics and hospitality in one of the most unique and picturesque locations not only of the island but throughout the Cyclades.
At the entrance of the bay of Agioi Anargyroi in the enchanting Naoussa of Paros and only 40 meters from the sea, the 4-star Parian Boutique Hotel is located.
Our hotel is a short walk from the center of Naoussa where the heart of the cosmopolitan island with the traditional taverns, the famous cafes and the active local nightlife, beats.
"BOUTIQUE HOTEL" Official certification
"Parian Boutique Hotel" has been officially certified as a "BOUTIQUE HOTEL" by the Hellenic Chamber of Hotels
Accommodation
The modern, minimalist style is blended beautifully with the traditional style of the island making Parian Boutique Hotel's rooms ideal for those seeking for affordable luxury.
Parian Boutique Hotel's Superior Double rooms stand out for the successful combination of simple and modern design along with the traditional touches in decoration and furnishing.
They are ideal for 2 adults or a couple, consisting of one bedroom with a double bed and all have private balconies of which the unobstructed magnificent view across the Agioi Anargyroi beach makes the accommodation in Naousa even more enchanting.
Highlights and Facilities
At Parian Boutique Hotel the trifecta of hospitality is: unique services, affordable luxury and harmony with the environment.
This trifecta makes the hotel one of the best luxury accommodations in Paros.
By tapping on these bases, we managed to create a menu of benefits that make the philosophy of Parian Boutique Hotel come true.
So leave the problems behind and enjoy unique moments of relaxation with us.
The Location
The Parian Boutique Hotel at Naousa of Paros, is ideally located right on the beach of Agioi Anargyroi combining the view of the endless blue of the Aegean with the calming sound of the waves
Unique view of the magnificent Aegean sunset
Parian Boutique Hotel is just a 10-minute walk from the center of Naoussa
Santa Maria Beach, one of the island's best organized beaches with water sports, diving center, beach bar and restaurant, is just 3 km from the hotel.
Follow us in Instagram
Relax and enjoy incomparable moments of relaxation at Parian Boutique Hotel